Mary Whittaker

President and Chief Executive Mom
"My story is personal. Growing up, I always assumed having children would be easy, but once I began trying to get pregnant, it was anything but. After graduating in Nutritional Sciences at Rutgers University, I had a real interest in looking into the efficacy of dietary supplements in helping boost reproductive health. Here I am 32 years later, passionate about our reputation for delivering high- quality products that are safe, pure and potent, along with our commitment to helping women increase their chances of conception naturally."
My favorite ConceiveEasy product?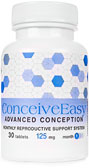 "Our ConceiveEasy Month 1 was the first reproductive dietary supplement launched to help support reproductive health. ConceiveEasy is specially formulated to increase your chances of conception from the very first use. And as we say – "the only side-effect is pregnancy!"
Dr. Renee Hanton, MD

Senior Physician, Business Development
"I am passionate about the effects that simple lifestyle changes and supplement use can have on women's reproductive health. This mission of making a difference in women's reproductive health is woven into the fabric of ConceiveEasy. I am proud and honored to play an integral role in assembling our team and shaping our culture to make these goals a reality."
My favorite ConceiveEasy product?
"ConceiveEasy Month 2. Every month of ConceiveEasy is formulated with a unique blend of ingredients to help conception. Month 2 is the blend that many women consistently report having the most success getting pregnant with. And I always love hearing another success story of a new mom-to-be conceiving with the benefit our products."
Dr. Prabha Sahgal, MD
Senior Director, Product Research
"Throughout my time at ConceiveEasy, I have always been inspired by the way our team always begins with the idea of how to first help empower women and support their reproductive health. Then, through hard work and diligence they make that idea come to fruition as a proven and tested consumer product. The talent and dedicated team at ConceiveEasy continues to innovate and develop fertility products that make a difference in women's lives.
My favorite ConceiveEasy product?
"My favorite ConceiveEasy product is the entire product line of ConceiveEasy, Months 1-12. Because every woman's body chemistry is unique, with 12 unique blends, we are there to support women throughout their entire trying to conceive journey. Whatever the reason and however long or short it takes to conceive, ConceiveEasy is there to support you achieve your dreams of becoming a mom."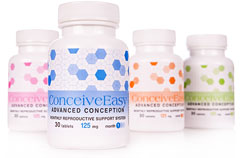 Maureen Stephens, RN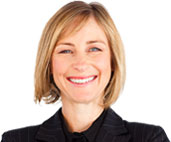 Director of Herbal Science
"Being born and raised in Northern California, I've always had a love of an active lifestyle and learned at an early age the importance of healthy living. When combined with a healthy diet and an active lifestyle, dietary supplements can have a dramatic impact on the fertility health of all women trying to conceive. I came to ConceiveEasy with the utmost respect for the line and the overall company mission of helping women conceive easier which we strive for every day."
My favorite ConceiveEasy product?
"For first-time moms, the new ConceiveEasy TTC Kit is a must-have item. It contains everything you need to make getting pregnant easy, safe and fast. Months 1&2 of ConceiveEasy, a choice of 20 Early Result Pregnancy or Ovulation Tests, and Get Started TTC Kit Guide (to help chart your basal body temperature (BBT) and pinpoint your most fertile days). Plus, you can try it free. This product is truly one-of-a-kind with all of the tools to get you started, and I recommend it to everyone who is starting on their journey to conceive."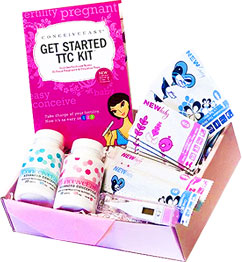 Monica Scott, RN
Director of New Product Development, Nutritionist
"Being part of a team behind the brand that is bringing life changing products to the market for women's reproductive health is so rewarding. I'm always inspired when I hear the overwhelmingly positive testimonials from our customers about ConceiveEasy products that safely and effectively support reproductive health. I'm proud to be involved with formulating and launching the highest quality fertility supplements. It's always a thrill to see a new product come off the line, physically test it and see it making a difference in people's lives!"
My favorite ConceiveEasy product?
"My favorite ConceiveEasy product are the free bonus gifts of 20 Pregnancy or Ovulation tests because they help make conceiving easier and save money too. Many of my patients who use ovulation tests end up running out right before they get a positive test result that would pinpoint their day of ovulation. And if you're a pregnancy test fanatic, it can be fun to test early 'just in case.' With the bonus gifts, you can do both and not worry about breaking the bank."